Lees: String Quartets 1, 5 & 6
Sequenza 21
Posted by Phil Muse in Naxos
Dec 07, 2009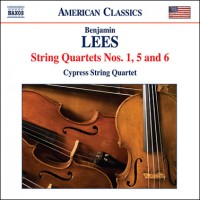 Quartet No. 1 (1952)
Quartet No. 5 (2002)
Quartet No. 6 (2005)
Cypress String Quartet
Naxos
American composer Benjamin Lees (b.1924) has a recognizable, highly personal style, notable for his formal clarity, his sonorities, his love of sharp contrasts and conflicts, his unexpected lyricism, and the integrity of his writing. As one can tell from a glance at the above dates, Lees has had an unusually long mature period, continuing to write music of remarkable vitality at an age when most composers have experienced a drying of creative juices, diminished stamina, or both.
Quartet No. 1 made its appearance more than fifty years ago, but it already showed Lees' salient characteristics, as stated above. A very active give and take between two clearly defined themes in the opening movement is followed by a particularly beautiful theme, first stated by the cello and taken up by the other instruments, in the slow movement, an Adagietto, (Winthrop Sargent, writing in the New Yorker, found it to be "one of the most distinguished things of its sort by a contemporary composer that I have heard in some time.") And so it is, a striking exercise in lyricism at a time when many composers seemed to regard the writing of a melody as something déclassé. The finale, Allegro vivo, is basically a rondo but also involves the statement and development of no fewer than three subjects before a re-statement of the first, and a spirited coda, bring matters to an dramatic, and abrupt, close.
That combination of rondo and sonata form in the finale, together with the fact that I had recently reviewed, with great pleasure, the first installment in a series of Beethoven's Last Quartets by the Cypress String Quartet, who coincidentally commissioned, and here perform on this disc, Lee's Quartets 5 and 6, seemed to click on a light for me. I don't mean to imply the direct influence of Beethoven on Benjamin Lees, but only that the latter-day composer possesses a Beethovenlike sense of clarity and formal integrity, no matter how involved his developments may be. Lees himself admits a taste in painting for the Cubists and Surrealists (significantly, genres in which a strong element of formal design trumps other features – a liquefied pocket watch, a dead pelican – that may be strange or unfamiliar taken by themselves). In Quartet No. 5, written on a commission by the Cypresses for their Call and Response series, he was asked to respond to elements in quartets by Shostakovich and Britten. Lees confesses a liking for the element of surprise in the former, in whose music humor and lacerated nerves can exist in uncomfortably close proximity. And he admires Britten for his refined sense of harmony, his penchant for throwing the listener off-balance by sliding away from a full-blown tonal scale into a harmonic haze.
Although Lees pays his respects to the stated traits in both composers, he is still very much his own man in Quartet 5. A muscular development of three contrasting themes in the opening movement is followed by a slow movment marked "Calm, steady," in which we have an intimate dialog between the two violins at the top of their registers interrupted briefly by a menacing outburst from the cello, and then resumed ("like two swallows turning over and over in air, arcing and tumbling," as the Cypress Quartet describe it in their delightful program notes). The scherzo, only 1:46 in duration, requires the quartet members to play as quickly and quietly as possible, ending as softly as a puff of smoke. (They modestly omit to mention how difficult this all is to execute. Again, Shostakovich!) The finale is explosive and sharply accented as all four instruments take turns tussling with the main subject.
Quartet 6, commissioned by the Cypress Quartet in 2005, again reveals the composer's distinctive "fingerprint." The opening movement, marked "Measured, dolorous," is also darkly agitated, with a lyrical subject that seems to emerge without preparation (Lees is never one to waste time making a statement). Quieter episodes alternate with more intense ones, and the movement ends forcefully. The slow movement is marked "Calm, steady," and so it is at its very opening. Then the development of a subject first stated by the cello is interrupted by a sharply accented episode, a whimsical second subject, and then the calm, sustained chords of the opening. The scherzo, marked "Quiet, eerie," features both pianissimo and fortissimo passages, ending in a triple pianissimo played pizzicato by all four players – all this in only 2:30! The finale is marked "Unhurried," but again that applies only to its opening and gives no indication of the succession of surprises Lees has in store for us: a sudden outburst, a burlesca, fast call and response exchanges between players, and a gathering momentum leading to a final climax, to be taken "as fast as possible."