Allmusic.com: How She Danced: String Quartets of Elena Ruehr
Allmusic.com
February 2010
by Uncle Dave Lewis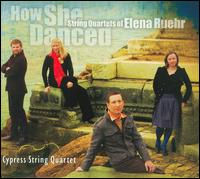 Composer Elena Ruehr has roots in the Upper Peninsula of Michigan and studied with William Bolcom at the University of Michigan in Ann Arbor; the release of the Cypress String Quartet's How She Danced: String Quartets of Elena Ruehr finds Ruehr as a professor in the music department at the Massachusetts Institute of Technology (MIT). Although not all of her four string quartets were written for it, Cypress String Quartet has enjoyed a long association with Ruehr going back at least to 1996, which is recapped to some extent in the engaging interview format booklet notes, led by Saint Paul Sunday Morning host Bill McGlaughlin and involving both the composer and all four members of Cypress.
The disc's program consists of Ruehr's First, Third, and Fourth string quartets, presented in reverse order. The String Quartet No. 4 (2005) was commissioned by Cypress as part of its "Call and Response" commissioning program; in this case the "call" is one of Mozart's "Dissonant" Quartet and "response" was Beethoven's String Quartet Op. 59/3; Ruehr's assignment was to use common elements as a springboard for creativity. Ruehr is at home in a wide variety of inspirations, ranging from Hildegard to Ghanian drumming, and the classical era is a strong suit. The quartet has an overall stunning sense of vitality, integration, and forward movement; even though the last movement may seem a bit long, it's not long by much. The String Quartet No. 3 (2001) is a masterpiece, a thoroughly confident, positive, vibrantly rhythmic -- even gymnastic -- piece so captivating one will want to return again and again.
Ruehr's String Quartet No. 1 (1991) was the work that first garnered her attention in classical music circles, and it's a little more variable in style, it wears its quotations a little more visibly and also relates more directly to late 20th century concepts. However, what this quartet has in common with the other two is that it's a very fast listen; when it's done, one might think, "Why did she write a four-movement quartet that's only 12 minutes long?" That's because it was 34 minutes long and only seemed like 12; every bar of music here is compelling, original, and driven by a sense of adventure and affirmative energy. Those who appreciate what's vital, novel, and fresh about contemporary music cannot fail to enjoy what the Cypress String Quartet has to offer on How She Danced: String Quartets of Elena Ruehr.