Boston Globe: 'Bel Canto' moves from page to stage
The Boston Globe
March 13, 2010
By David Weininger, Globe Correspondent
Novel inspires composer's work for string quartet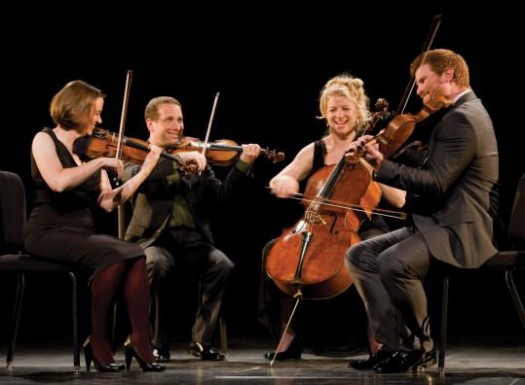 The Cypress String Quartet premiered "Bel Canto" in San Francisco last month. The group gives the first East Coast performance on Wednesday at Wellesley College.
The novel "Bel Canto" won the 2002 PEN/Faulkner Award for fiction and garnered a lot of praise for its author, Ann Patchett. Soon she found herself besieged with ideas for adaptations: movies, an opera, a Broadway show. Among the names potentially involved: Bertolucci, Eisner, Lloyd Webber.
"My joke about 'Bel Canto' is that I've had everything except a finger puppet review proposed to me," says Patchett by phone from her home in Nashville. "So many things have almost happened and dismally failed before they got off the ground."
The one project that has come to fruition is, perhaps, the most unusual: a string quartet by Brookline-based composer Elena Ruehr. Her "Bel Canto" was commissioned by the Cypress String Quartet and premiered last month in San Francisco. The group gives the first East Coast performance on Wednesday at Wellesley College.
Her initial plan was to base the new work on a song. She eventually chose Samuel Barber's haunting "The Crucifixion" from the composer's "Hermit Songs," a work the composer has known since childhood. "It's one of those things: You have six pieces that are very special to you in some way, and this is one of them."
The novel opens in dramatic fashion with the kidnappers, a group of young rebels, breaking into the recital just as Coss finishes a song. Ruehr saw Barber's piece as the song Coss might have been singing. Barber's melody resembles a folk song, which reminded her of the rebels, most of whom are from the countryside, while a passage in the piano accompaniment resembled Japanese koto music.
"I was intrigued by this kind of strange folk song-opera song-Japanese song that Barber wrote," she explains. "And it seemed like, here's this book about this Japanese businessman and an opera singer in a South American country. It seemed like there was a lot of stuff there that I could really mine."
Ruehr wrote to Patchett to ask her permission to base the quartet on the novel. "It was a little bit of a fan letter and a little bit of a 'please can I do this?' " she says.
Patchett, who admits to being somewhat "over the book and everything to do with it," says that it was precisely the low-key nature of Ruehr's request that attracted her to it.
"She wasn't saying, I'd like to propose to get the rights and have your lawyer call my lawyer," says the novelist. "She was just like, Hey, you want to be a pal and let me do this? And that was great."
The "Bel Canto" quartet is in 10 movements, each named for a character or event in the book ("Rebels in the Vents," "Three Generals"). The structure is unusual: The first nine movements are short, ranging from 45 seconds to three minutes each. The 10th movement, "In the Garden" runs some 13 minutes. It illustrates one of the critical scenes in the book and develops some of the motifs that have come before.
Ruehr's musical language makes generous use of tonality and follows her long-held motto: "The surface is simple and the structure is complex." In addition to the Barber, references to other songs are strewn throughout the piece: some that Coss sings in the book, such as Puccini's "Vissi d'arte," and some that Ruehr imagines she might have sung, such as Schubert's "Doppelgänger."
The new work's premiere coincided with a recording by the Cypress of Ruehr's First, Third and Fourth Quartets, released by the quartet on its own label. More recently, the group made a private recording of "Bel Canto" for Patchett, who says that though she's learned a lot about opera since writing the book, she's "still a little thin on chamber music.
"I'm just really grateful for the gorgeousness of it," Patchett says of the quartet. "It's new, it's completely fresh and completely hers, but it brings in so many — not even influences but genuine nods to the things she loves. And I love that about it."
At Houghton Chapel & Multifaith Center, Wellesley College. 781-283-2028, www.wellesley.edu/Music/home.html