Gramophone: Ruehr's engaging quartets are performed with conviction
Gramophone Sounds of America Reviews
May 2010
by Laurence Vittes
Ruehr
'How She Danced' - String Quartets - No 1; No 3; No 4. Cypress Quartet® C5Q2010 (75' • DOD)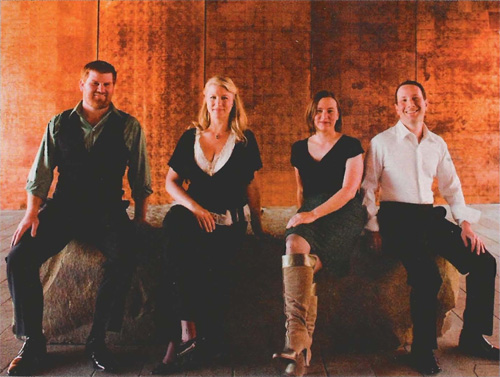 The Cypress Quartet takes its name from love songs by Dvořák, and love is what they unfailingly play with on this new release: three string quartets. Musically speaking, the results are never eclectic; every bar sounds completely her own; the string writing is lush. The Fourth Quartet was a Cypress Quartet "Call & Response" commission winner in 2005. Ruehr was asked to "be inspired" by Beethoven's Op 59 No 3 - the epigrammatic Razumovsky - and Mozart's so-called Dissonance Quartet, K465. But the music becomes immediately absorbing on its own.by Dr Elena Ruehr, currently at MIT. The good doctor writes music that expresses sober populist sentiment in intoxicated streams of post-late-post-Romantic long-limbed melody occasionally interrupted by notes of reality. By this compelling route, with thoughtful pace and a profound respect for conventional harmony, Ruhr's music reaches deep into the psyche. For some people it will reach deep into their heart.
Ruehr wrote the First "just because I needed to write a quartet". While thoughts of Perotin and Bach cohabit beneath the surface, the composer reserves her most personal utterance for the lullaby "Let's Sit Beneath the Stars", which reflects her family's history back to the Civil War "when they operated a house on the underground railway".
The Third reflects Ruehr's interest in flutes, the rhythms of chant and the joys of family. The slow movement is unspeakably gorgeous. The CD takes is title from the third movement, a child's dance inspired by her young daughter. The Skywalker recording captures with excellent spatial definition the tawny sound you'd expect from the Quartet's exceptional instruments: Strad, Bergonzi, Bellarosa and Amati II.