Giving Thanks
This past weekend saw the inauguration of our second annual Salon Series, this time featuring three wonderfully varied venues in Berkeley (Meyer Sound's Pearson Theatre), San Francisco (Gallery Wendi Norris) and Los Altos Hills (Stonebrook Court Manor). An unqualified success, all three concerts this weekend were sold out, so if you were there, you were one of the lucky ones! And of course, huge thanks again to our hosts at each venue for welcoming us and our friends into your brilliant spaces.

Tickets are still available for our January and May programs so we encourage you to go order yours now, before it's too late... here: http://salon.cypressquartet.com.
---
One of those in attendance at all three of these recent Salon concerts deserves special recognition: our newest staff member, Maggee VanSpeybroeck, joined the Cypress Performing Arts Association as our Arts Program Coordinator just last Thursday, coming to us with both an impressive background in musicology and education and a warm and comfortable presence that we are so happy to welcome into our office and excited to be sending out into the Bay Area and beyond to begin working with our education partners in the coming months as we prepare for Call & Response 2013, and everything that producing the concert and the outreach leading up to it entails. If any of our partner-teachers are reading this, you should be hearing from Maggee very soon to discuss our plans for visiting your school or youth orchestra in the spring! Here she is in our office: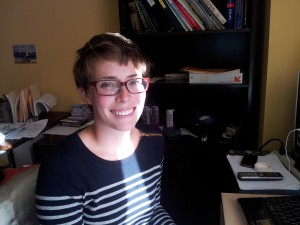 Welcome, Maggee!
Comments are closed.