Walter & Elise Haas Fund: Hear the Cypress String Quartet Play Farewell
Source: www.haassr.org
May, 2016
By Frances Phillips, Program Director, Arts and The Creative Work Fund
The Walter & Elise Haas Fund joins with grantees and collaborators to ensure access and create opportunity for everyone. Normally, that involves bringing organizations, programs, and services to life. In the case of the Cypress String Quartet, however, our push for greater access to quality arts experiences for all is tied to helping a celebrated ensemble bring its work to a close.
Violinists Cecily Ward and Tom Stone, violist Ethan Filner, and cellist Jennifer Kloetzel celebrate their 20th and final season as the Cypress String Quartet with a series of free concerts. Over the next two weeks, they are performing all of Beethoven's 16 string quartets in locations distributed across the city of San Francisco. Each concert makes live, free, high-quality chamber music accessible to many who would otherwise likely lack access.
Concert locations include Japantown Peace Plaza, Crissy Field, the dining room of the Saint Anthony Foundation, Persia Triangle, SF General Hospital, and the Sutro Baths. At least one performance is scheduled in each supervisorial district.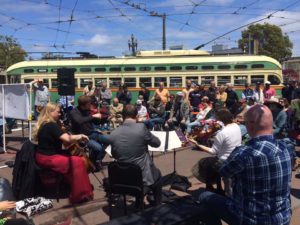 These performances are the Cypress String Quartet's farewell gift to the city. In music and through discussion, they'll engage an estimated audience of five thousand San Franciscans. Over 400 people attended their Castro location concert on May 8th.
Alongside the Quartet, we celebrate this opportunity to work together to build a better Bay Area and to bring the richness of the arts to our neighbors on the margins. While we're sorry the Cypress String Quartet will no longer be part of San Francisco's musical community, we are very glad to help them share their work through these farewell events. We hope you will be able to attend at least one performance.