Uncategorized
Kansas City Star
Sunday, October 4, 2009
STEVE PAUL PAUL@KCSTAR.COM
The San Francisco-based Cypress String Quartet performs Saturday at UMKC's White Recital Hall. The quartet members are (from left) Cecily Ward, Tom Stone, Jennifer Kloetzel and Ethan Filner.
Sometimes, it makes sense to start at the beginning. Yet when the Cypress String Quartet takes the stage here on Saturday, it's going straight to the end.
The program, that is, includes some of the last — and best — music written by three great and productive composers: Mozart, Beethoven and Bartok.
"These composers were at the height of their creative powers," Jennifer Kloetzel, the Cypress cellist, said of her group's choice of material.
read more »
Classical Music Magazine
September 12, 2009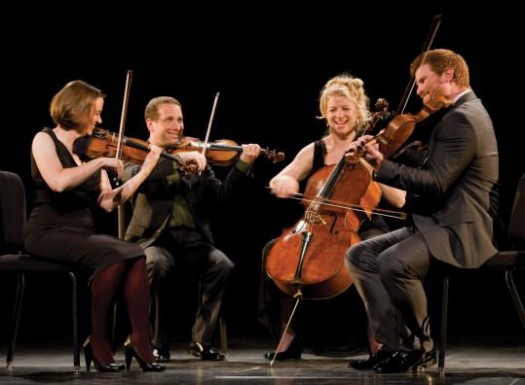 Beethoven from the bottom up: The Cypress Quartet's sound flows from the sound of cellist Jennifer Kloetzel
Many instrumentalists cite Bach's works as a seminal influence, but the chorales for a string quartet? 'From the first summer we got together we have played them and we still do it otten at rehearsals,' says Jennifer Kloetzel, the Cypress Quartet's cellist. 'They are so beautiful, and we can work on chords, intonation and who is leading,'
read more »
Flagstaff Live!
Nando's Classics
By Nando Schellen
Published on 09/10/2009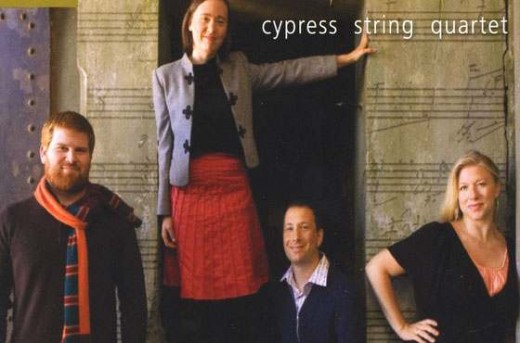 Beethoven: String Quartets Opus 131 and 135; Cypress String Quartet
www.cypressquartet.com
If, as a listener or as a performer, you want to try to look into the composer's soul, then listen to or play one of his string quartets. If you want to look into Beethoven's complicated soul, listen to or play his last string quartets. The Cypress Quartet performs his last quartets, op. 131 and 135, on this recording. This relatively young ensemble founded in San Francisco in 1996 has looked into Beethoven's soul and presents a precise, touching and very musical performance with a technically perfect sound.
The San Francisco Examiner
September 8, 2009
by Stephen Smoliar
For too much of the 20th century, it seemed as if the study of how one both performs and listens to music was hijacked by an academic intellectualism that tried to reduce all questions to objective terms to be resolved through the analytic machinery of either syntactic structures or formal mechanisms developed for the proof of logical propositions. Arnold Schoenberg's quest for "the emancipation of the dissonance" was cast as a logical (if not algebraic, if one considers the theoretical work of Milton Babbitt) challenge that transcended the need to raise any questions of an aesthetic nature. Indeed, for those most preoccupied with emancipating the dissonance, there seemed to be an unwritten law (which would probably have both amused and distressed George Orwell) that the word "beauty" should be excised from the working vocabulary.
read more »
Audio Video Club of Atlanta
Phil's Classical Reviews
September, 2009
To audition and purchase visit cypressquartet.com
The San Francisco-based Cypress String Quartet, consisting of Cecily Ward and Tom Stone, violins; Ethan Filner, viola; and Jennifer Kloetzel, cello, have just released Volume 1 of a projected cycle of Beethoven's Late Quartets, and is it a beauty! I like the cohesion of these young artists, who have been playing as a group since 1996. Their mutual sympathy and blend are ideal, and they possess the virtuosity as individuals to meet the stern technical Beethoven poses here and still make the end result come across to the listener as the most exalted kind of musical fun – musicians at play!
read more »
The Strad
September 2009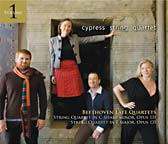 On one of the growing number of performer record labels, the American-based Cypress Quartet makes a most auspicious opening to its planned series of Beethoven's late quartets. The players have been journeying towards this cycle since they first began working together in 1996, and after a long gestation period they have arrived at performances that never set out to surprise or shock, and are free of affectation and the encrustations of tradition.
read more »
Cleveland.com
MUSIC AND DANCE
Cleveland and Northeast Ohio Classical Music, Ballet, Modern Dance
by Zachary Lewis and Donald Rosenberg / Plain Dealer Reporters
August 10, 2009
Beethoven: String Quartets Op. 131 and Op. 135
Cypress String Quartet
Cypress Performing Arts Association
Another recording of Beethoven String Quartets seems almost unnecessary, but this one by the San Francisco-based Cypress String Quartet doesn't belong on the slush pile. Presenting two late works, the Cypress players converse with such rare sincerity as to make long-familiar music sound utterly fresh. Throw in their technical aplomb and rich, cohesive tone, in which every voice is significant, and you've got a pair of definitive statements. Happily, more are coming; This is merely volume one. Grade: A -- Z.L.
Audiophile Audition
The Cypress' approach suggests a "revisionist" Beethoven from a modern perspective that still shares much with the groundbreaking path instituted by the Busch Quartet three generations ago.
Published on August 10, 2009
The All Music Blog
www.allmusic.com
Review by Uncle Dave Lewis
Well it seems at last that composer Benjamin Lees has finally come into his own, and none too soon as the year 2009 witnessed his 85th birthday. For the longest time -- decades even -- all one could hear on recordings of Lees after the most diligent searching were two concertos, a couple of piano pieces, his first string quartet, second symphony, second violin sonata and another, short orchestral work. This was during a time when a lot of contemporary American music was being recorded, and when the veil came down over this tiny, highly specialized area of the record industry circa 1980, Lees more or less totally disappeared from view. This was a pity, as Lees has always gone his own way as a musician, never followed trends and his music is solid, unsentimental and clearly contemporary without resorting to systems or bypassing his own aesthetic choices -- for any reason. With the new century, a flurry of new Lees recordings have followed, and now Naxos -- which last dropped in on Lees in 1998 through a recording of his Symphony No. 4, "Memorial Candles" -- rejoins the fray with an excellent offering of three of Lees' string quartets, performed ably and with dedication by the Cypress String Quartet.
read more »