2014-15 Salon Series
THE SERIES | VENUES & DATES | PROGRAMS | TICKETS
SUBCRIBE TODAY!
BERKELEY – Maybeck Studio for the Performing Arts – SOLD OUT!
SAN FRANCISCO – Kanbar Performing Arts Center
PALO ALTO – Woman's Club
*2014-15 Salon Series Single-Concert Tickets Will Go On Sale September 2, 2014*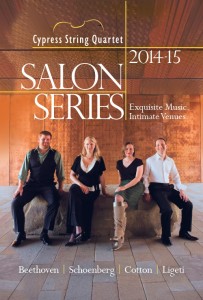 Indulge your senses and immerse yourself in the luxury of great chamber music with the Cypress String Quartet. Three remarkable programs. Three unique and intimate Bay Area venues. In the 2014-15 season, explore the Early and Middle Quartets of Beethoven with the Cypress String Quartet in three unique pairings: with Arnold Schoenberg's romantic Transfigured Night string sextet in October; with Jeffery Cotton's exotic Serenade in February; and with Gyorgy Ligeti's seminal String Quartet No.1 Metamorphoses nocturnes on Mother's Day weekend in May 2015.
Salon Concerts run approximately 2 hours including intermission and are immediately followed immediately by chocolates & wine receptions hosted on-site by the Cypress String Quartet. Before each piece on the Salon programs, Cypress members will provide spoken introductions to help contextualize the music in a unique and personal way. Program booklets will include detailed notes on the music performed, and Cypress Quartet CDs will be available for purchase.
---
This is as close, intense and breathtaking as music gets. Don't miss it!
October 24, 2014
February 6, 2015
May 8, 2015
SOLD OUT!
---
October 25, 2014
February 7, 2015
May 9, 2015
Subscribe!

---
October 26, 2014
February 8, 2015
May 10, 2015
Subscribe!

---
Salon Series Programs & Tickets
Salon Series I – October 24-26, 2014
Beethoven: Op.18 No.2
Arnold Schoenberg: Transfigured Night
Beethoven: Op.95 'Serioso'
Salon Series II – February 6-8, 2015
Beethoven: Op.18 No.4
Jefery Cotton: Serenade
Beethoven: Op.59 No.1
Salon Series III – May 8-10, 2015
Beethoven: Op.18 No.6
Gyorgy Ligeti: String Quartet No.1
Beethoven: Op.59 No.3
Tickets
Seating is limited to ensure a truly intimate experience.
Single-Concert Tickets*On Sale Beginning September 2
General Admission: $50
Groups of 10 or more: $40
SUBSCRIPTIONS NOW AVAILABLE
$120 for three concerts at one venue
Groups of 10 or more: $108
BERKELEY SALON SERIES – SOLD OUT!
SAN FRANCISCO SALON SERIES
PALO ALTO SALON SERIES
Email salons@cypressquartet.com or call Maggee at (415) 500-2150 with any questions.