CYPRESS BLOG
---
SUPPORT BREAST CANCER RESEARCH AND ENJOY AN INTIMATE AFTERNOON OF CHAMBER MUSIC
---
The Buck Insitute For Research On Aging
8001 Redwood Blvd., Novato 94945

Presents the
CYPRESS STRING QUARTET
Sunday, September 21, 2014 at 3 PM
---

Program:

Two Sketches Based on Indian Themes -- Charles Griffes

Lento Assai -- Kevin Puts

String Quartet No. 12 in F, Op. 96 "American" -- Antonin Dvorak


---
Tickets are $250 and a portion is tax deductible. Ticket sales are nonrefundable.
[BUY TICKETS]
Seating is very limited.

Doors open at 2 PM. Light refreshments will be served prior to the performance.

Location: The Drexler Auditorium at The Buck Institute, 8001 Redwood Blvd, Novato, CA 94945
Proceeds from this performance will benefit breast cancer research in the Buck Institute lab of Christopher Benz, MD. Every woman is at risk for breast cancer. In this country about 1 in 8 women will develop invasive breast cancer over the course of her lifetime - it is the second most common cause of cancer death, with about 40,000 women succumbing to the disease each year. While survival rates continue to improve, treatments often have a devastating effect on women's health and wellbeing.
Dr. Benz is a practicing oncologist and researcher. He works from the lab bench to the bedside and engages the community in efforts to reduce the incidence of breast cancer by developing prevention strategies, and improving therapies for those already diagnosed with the disease. We are proud to have him on our faculty.
The Benz lab was among the first to study why age is the strongest of known risk factors for the development of breast cancer. Among other accomplishments, his lab developed a targeted therapeutic for the treatment of breast cancer that is already advancing through clinical trials and helping many women with metastatic breast cancer. Dr. Benz was also instrumental in organizing the Marin Women's Study (MWS) in 2006, designed to identify lifestyle patterns and inherited characteristics contributing to the very high incidence of breast cancer in Marin County documented over the past two decades. The accomplishments and latest findings from the MWS have been the subject of much recent attention. If you are unable to attend, please consider making a gift to help support his research.
specialevents@buckinstitute.org
---
FAQs
Are there ID requirements or an age limit to enter the event?
There is no age limit to attend the event. However, the event is targeted towards adults, so please use your best judgement in regards to accompanying minors.

Where is the Buck Institute?
Our address is 8001 Redwood Blvd, Novato, CA 94945, with our building located off of Redwood Blvd on Buck Center Drive. Click HERE for driving directions.

What are my transport/parking options getting to the event?
We strongly suggest our guests drive or take a taxi. There is no public transportation option that will drop attendees off at or near the Buck Institute.
Parking will be onsite. When you arrive at the Buck Institute, signs and parking attendants will direct you where to park.

What can/can't I bring to the event?
We do not allow outside food or drink at the event. Light refreshments will be offered in the hour prior to the concert in our atrium just outside the Drexler Auditorium, however, once doors open for the performance no food or drink (with the exception of bottled water) is allowed in the auditorium.
No video recording is allowed.
Please leave your pets at home.

Where can I contact the organizer with any questions?
Please contact us at 415-493-3638 or specialevents@buckinstitute.org with any questions, or if you would like to purchase tickets by check.

Is my registration/ticket transferrable?
Yes. However, please make sure to contact us to let us know about name changes on the ticket or ticket group no later than Wednesday, September 17.

Can I update my registration information?
You can update registration information no later than Wednesday, September 17.

Do I have to bring a printed ticket to the event?
A printed ticket is not provided, as we will have all registrants on a list when you arrive at check in. However, we encourage you to bring a printed version of the confirmation email of your ticket purchase with you, just in case.

What is the refund policy?
Tickets are nonrefundable.

The name on the registration/ticket doesn't match the attendee. Is that okay?
This should be fine as long as the original attendee has contacted us about guest/name changes on the ticket/ticket group prior to Wednesday, September 17.

Are discount or child tickets available?
No. All tickets are $250 each.

What is the limit on the number of tickets I can purchase?
There is no cap, however please note that Eventbrite allows you to purchase 10 at most in one transaction. If you would like to purchase more, click back to the event page after your transaction is complete and go to the registration process again as needed. Please also note that there is a very limited amount of seats available in the auditorium. Tickets will be listed under the name of the registrant. (e.g. John Smith +1)


Have questions about the Cypress String Quartet's Performance to Benefit Breast Cancer Research? Contact The Buck Institute:
Buck Institute for Research on Aging
8001 Redwood Blvd.
Novato, CA 94945
Tel: 415-209-2000
Fax: 415-899-1810
E-mail: info@buckinstitute.org
Cypress Quartet second violinist, Tom Stone, talks about his formative musical experiences of his youth. "When I was a young boy, I always enjoyed playing music. I never liked practicing but I always liked music. I always did this for the genuine love of playing, and not for some kind of more career-oriented ambition. I remember the summer I was 17, I went to Tanglewood to participate in the orchestra and I had a life-changing summer. When I was there, our orchestra was conducted by Leonard Bernstein and we played Brahm's First Symphony, Candide overture and Barber's Adagio for Strings. I will never forget experience of sitting Assistant Concertmaster and being just a foot away from Bernstein in those orchestra rehearsals. His charisma and his passion for music were intoxicating. The connection we had as musicians with him as a conductor was incredibly personal. He really was engaging with the orchestra and sharing music with all of us. It was an amazing experience. That same summer, I also worked with Eugene Lehner, who was the violist of the important Kolisch Quartet in Vienna, and who premiered a lot of important music. I was playing in an honors quartet there and coached with Mr. Lehner every week for two months on a Beethoven quartet, eventually performaning it. Lehner was actually Bobby Mann's mentor, of the Julliard Quartet. I only knew him as a sweet and gentle and elderly man. I didn't understand the importance of his status in history, or as a legendary performer and teacher of the Viennese tradition of chamber music. Yet I remember his coachings vividly. I remember the sound of his voice and how he would sing different passages of music in order to show us what he was looking for. I remember how he described music with words in the most creative and imaginary way. We were just captivated in those coachings. Looking back at them, I learned so much, and it was such a pleasant experience and I am so happy that I didn't have the pressure. I just enjoyed it in the most youthful and innocent way. That summer, my violin teacher was a member of the Boston Symphony, who had just joined the orchestra as a young man. He told me that if I practiced really hard, I could play in an orchestra when I grew up. If I learned up my excerpts that I could play in an orchestra like the Boston Symphony if I worked very very hard. All three of those experiences happened that summer in Tanglewood. I also forged many important friendships with people at Tanglewood, many of whom are professional musicians today with whom I have stayed in touch with from time to time. That was the moment that I understood that I could be a musician if I wanted to. I learned from Lehner
how
to be a musician and I learned from Bernstein
why
to be a musician. I learned how powerful music can be - and what a force for humanity.
Cypress members share stories of events in their early musical lives that helped lead them into their lives as professional musicians.
Ethan Filner, viola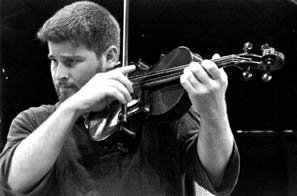 I didn't know that I was going to be a professional musician – or even thought seriously about trying - until well into my collegiate career. I began violin lessons when I was 4 and switched to viola when I was about 13, and I enjoyed playing but I had never felt like doing it professionally was necessarily my destiny.
When I first arrived at Indiana University, I registered as a double major in telecommunication studies and viola performance – they had a new sort of double-degree category called "Bachelor of Science in Music with an Outside Field," or "B.S.O.F." This choice enabled me to take many other kinds of courses outside of the music school that I thought sounded interesting. As you can imagine, music programs tend to be heavy on the music classes - most students aren't able to take many courses outside of their discipline. read more »
We hope you are enjoying the Fall 2013 season. We have been busy and things are just getting started!
This past weekend we had a wonderful private house concert event at the home of Kay Dryden and Charlie Ferguson in San Francisco. Among the dozens of enthusiastic new friends we made, there was a photographer present who spent the night snapping away and we have some of those shots here to share with you.
Photo Gallery from Oct.5, 2013 House Concert
For more information about our upcoming events, visit our calendar!
Happy Spring!
In this first week of March 2012, we were thrilled to celebrate the official release of our 3-disc set Beethoven: The Late String Quartets with an intimate salon concert at Chronicle Books in San Francisco this afternoon - a performance that offered our friends a taste of Beethoven's Opus 127 (included on "Volume 3" of the cycle; and on Disc 1 of the box set) not only as one of the works on the new disc but also as one of the masterpieces making up the "Call" of this year's Call & Response program we'll be performing March 16th at 8pm at Herbst Theatre.
Read more about Call & Response here and Buy Tickets Here!
This year's program features quartets by Haydn and Beethoven, and the World Premiere of Philippe Hersant's Quatuor a Cordes No.3 completed in 2011, delivered to us in early January 2012 and loved instantly by the Cypress players as we sat down to learn it over the past several weeks. Hersant is the first international composer we have worked with through our Call & Response commissioning program. Philippe will be in town for the week of C&R to work with us on his new quartet - his first in nearly 25 years! - and he will be on hand for a pre-concert talk at 7:15 on the 16th at Herbst.
We have been busy visiting schools throughout the Bay Area in the build-up to C&R, bringing excerpts of the Hersant along with bits of the Haydn and sections of the Beethoven into more than a dozen classrooms and community centers in presentations for elementary through high school-aged kids. The deal is, we visit them in their 'home' - their school - introducing them to a variety of creative concepts brought to life by and through the music, and then invite them to come to our 'home' - the concert hall - for the full public performance of the pieces with which they have now become more familiar than much of the rest of the audience that will be in attendance on March 16th. In each of the last 12 years we have presented Call & Response in the Bay Area, the resulting audience - the mix of lifelong chamber music fan and young newbie and everything inbetween - is a revelation both to us in the quartet and to the 'regular people' in the audience who'd never have thought so many young kids could be so excited by the work of a classical string quartet. We expect no less a remarkable turnout in less than two weeks when we walk onstage to play a little Haydn, some Late Beethoven and some brand new French music for all of you at our 13th annual Call & Response.
This past weekend saw the inauguration of our second annual Salon Series, this time featuring three wonderfully varied venues in Berkeley (Meyer Sound's Pearson Theatre), San Francisco (Gallery Wendi Norris) and Los Altos Hills (Stonebrook Court Manor). An unqualified success, all three concerts this weekend were sold out, so if you were there, you were one of the lucky ones! And of course, huge thanks again to our hosts at each venue for welcoming us and our friends into your brilliant spaces.

Tickets are still available for our January and May programs so we encourage you to go order yours now, before it's too late... here: http://salon.cypressquartet.com.
---
One of those in attendance at all three of these recent Salon concerts deserves special recognition: our newest staff member, Maggee VanSpeybroeck, joined the Cypress Performing Arts Association as our Arts Program Coordinator just last Thursday, coming to us with both an impressive background in musicology and education and a warm and comfortable presence that we are so happy to welcome into our office and excited to be sending out into the Bay Area and beyond to begin working with our education partners in the coming months as we prepare for Call & Response 2013, and everything that producing the concert and the outreach leading up to it entails. If any of our partner-teachers are reading this, you should be hearing from Maggee very soon to discuss our plans for visiting your school or youth orchestra in the spring! Here she is in our office: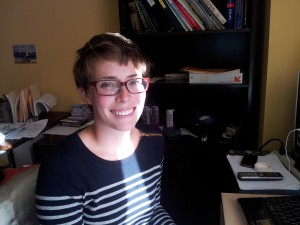 Welcome, Maggee!
August 18, 2012
Ethan Filner
And somehow, suddenly, it's the middle of August!
What a year it's been and what a year we have to look forward to. This past Spring we played the World Premiere of Philippe Hersant's String Quartet No.3 at our 13th Annual Call & Response concert in San Francisco; we played at the Upper-West-Side Apple Store in NYC to celebrate the then-recent release of the Beethoven Late Quartets box set, with a dash of The American Album thrown in for good played a free concert for a fantastic group of kids and their families in a gritty Lower-East-Side neighborhood on Simone Dinnerstein's Neighborhood Classics series - you can see us do some of our handy outreach and performance in this great segment from "Nueva York" that ran in June, spotlighting Simone's series. (Jump to the segment here.)
And THEN we spent two weeks in Sitka, Alaska performing in the Sitka Summer Music Festival with its new Artistic Director, cellist Zuill Bailey; fab violinist Kurt Nikkenen & all the other artists. In between rehearsing for and performing the 6 concerts we participated in as Sitka's first ever pre-formed, professional String Quartet to attend in its 41-year history, we enjoyed some great chill time kayaking, hiking, fishing and eating some truly amazing Alaskan cuisine. Read our fishing hosts' blog account of their weekend on the water with us and Check out a few of the amazing vistas we captured from that gorgeous part of the world: (view the "complete" Sitka 2012 album on my facebook page here)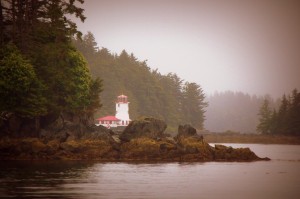 We went our separate ways for a couple of weeks of personal vacation time after Sitka, and when we came back together we set right to work preparing for the intense week of recording of music by Dvorak we did at the end of July at Skywalker Ranch in Marin County. The disc will be released in early 2013 and features Dvorak's massive, gorgeous String Quartet in G Major, Opus 106; and his wonderful set of 12 beautiful love songs (originally a set of 18 for voice and piano that he composed years earlier) called "The Cypresses," the work from which we took our name 16 years ago when the Cypress String Quartet was founded.
In the 2012-13 season we'll welcome our new executive director (the suspense is horrible!) and expand our Salon Series from last year's 6 concerts in 2 venues to this year's 9 in 3, including two new spaces in San Francisco and Los Altos Hills. Learn more about the Salon Series here. We're heading to Europe for a couple of weeks in September, can be seen at UC Berkley's "Fall Free for All" on September 30th, and we'll be world-premiering Elena Ruehr's 6th Quartet in San Francisco in October.
Happy New Year!
Following a couple of weeks off for the holidays that weren't really 'off' at all thanks to the ever-more complicated business side of being a String Quartet, we are diving into 2012 with a bang. Make that a handful of bangs! More information is on our calendar but quickly:
January 8th in San Jose, CA: Cypress cellist Jennifer Kloetzel performs the world premiere of composer Elena Ruehr's cello concerto (titled "Cloud Atlas") with the San Jose Chamber Orchestra, who commissioned the work from Boston-based and multiple Call & Response-commissioned composer Elena Ruehr.>
January 22 in Eugene, OR: Catch the Cypress with pianist Jon Nakamtsu performing the Brahms Piano Quintet.
February 3rd and 4th in Berkeley and San Francisco, CA: The Cypress continues their 15th Anniversary Celebration with the second of three pairs of concerts in their 2011-12 Salon Series. This program features quartets by Maurice Ravel, Ervin Schulhoff and Pulitzer Prize- & Grammy Award-winner Jennifer Higdon.
Thank you to all who helped fund our Radio Tour! Kickstarter campaign last month. Your support means the world to us and if anyone is missing any of their promised 'backer benefits' please don't hesitate to email us to find out what's up, at csq@cypressquartet.com
Look for our 3rd Volume of Beethoven Late Quartets in early March when it will be released alongside the complete 3-volume set on March 6, 2012 - coincidentally the anniversary of the permiere performance back in 1826 of Beethoven's String Quartet in E-Flat Major, Opus 127. Volume 3 (Disc 1 in the chronologically-ordered Complete Set) includes Opus 127 and Opus 132 (in A Minor) for a total disc playing time of something ridiculously close to the 80 minute maximum. Options for pre-ordering the box set or the 3rd Volume alone will soon be available over on our Discography page.
Just today we received in our Quartet mailbox the parts for this season's Call & Response commission: Quatuor A Cordes No.3 by the fantastic French composer Philippe Hersant. This was one of those rare moments in modern history when a commissioned work arrives in physical form not just as a .pdf attachment in our email! The Call & Response concert this spring is on March 16, 2012.
Finally, the Cypress Quartet's parent organization, the Cypress Performing Arts Association, is entering a new era as we begin the search this week for a new Executive Director following the departure from the CPAA last month of our great friend and fearless leader for the past 5 years, Todd Donovan. We have the job description posted here if you are interested in filling some pretty big shoes, or know someone who might be: Executive Director Job Description
The Cypress String Quartet is hitting the radio waves!
We are celebrating our 15th Anniversary and the release of our latest CD, The American Album, with an old fashioned radio tour! The next two weeks offer 6 opportunities to hear us interviewed and performing on the radio - some live shows, others taped, most available to hear streaming online.
We have also launched a kickstarter campaign where you can help support us as we travel to:
WQXR in New York on Nov.28 (broadcast on November 30)
Sirius XM in Washington D.C. on November 29 (broadcast date/time TBA)
KUHAM in Houston, TX on December 1 (broadcast date/time TBA)
TPR in San Antonio, TX on December 2 (Live! 1-2pm local time)
WFMT in Chicago, IL on December 5 (LIve! 3-4pm local time)
Wellfleet, MA (Cape Cod) on December 7 (Benefit concert for Outer Cape Health Services)
WGBH in Boston, MA on December 9 (4-5pm "Drive Time")
We'll be posting updates including pictures and maybe some videos on our
facebook page
and perhaps right here too, throughout the tour. Take a look at our
Calendar
for more complete information about the tour.
Welcome!
We have just launched our brand new website - please take a look around, join our e-mailing list with the JOIN button up there near the top of the page, and let us know what you think by emailing csq@cypressquartet.com with any and all comments! Don't be shy.
Our 15th Anniversary Salon Series began with two fantastic nights in Berkeley and San Francisco last weekend, with friends, family, supporters and a slew of other music lovers on hand to hear us perform music from our new CD "The American Album" and to chat with us post-concert during the Wine & Chocolates reception. Special thanks to our guest-moderators for the two evenings, Matías Tarnopolsky in Berkeley and Kai Christiansen in San Francisco, for their eloquent lead in brief post-concert Q&A sessions that gave our audiences a hint of extra insight into our work together as a Quartet for these past 15 years.
Read more about the Salon programs and buy tickets here!.
read more »
You're Invited! Join Us November 18th, 5-8 p.m.
We are thrilled that Allen Edmonds shoes has selected the Cypress String Quartet to receive 10% of all sales proceeds at their new Embarcadero Center store from November 18-23. Treat yourself to a new pair of shoes for the holiday season and support the Cypress String Quartet while you shop! Cypress String Quartet members will be in attendance on November 18 from 6-8pm.